We in the educational committee work towards improving the economics-related programmes at Mälardalens University as well as maintaining their high quality! Questions we are discussing in all kinds of different meetings and events with professors, teachers and students are for example the structure of courses and possible changes within the programme.
Through corporations with the EST academy and students we can influence all those questions mentioned above and come up with events to help students in their education and learning.
If you are unhappy with a course structure, teacher or examination or simply want to give suggestions on improvement then contact us utbildning@malekon.se and we will help you!
Do you have suggestions on how the education at Mälardalens Högskola can improve?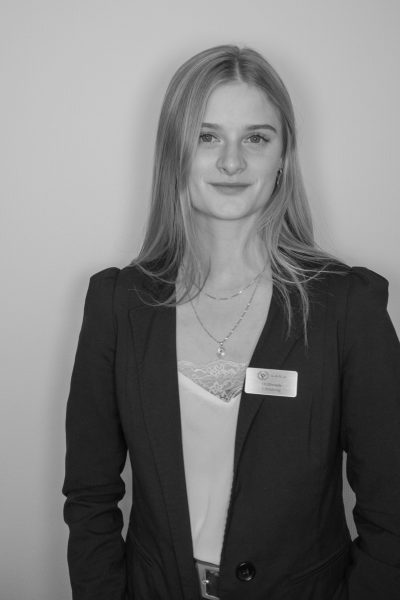 Hello everybody!
I am Sophia, the chairperson of Education and *surprise* another second-year IBM student 👩‍🎓.
For my role in Mälekon, I work together with Theo to try to develop and improve the quality of our courses and programmes. To do so I am in close contact with the class representatives and the programme coordinators. In meetings like the programme councils, we bring up your feedback and suggestions to make our time and learning at MDH the best it can possibly be! 💙
I was born and raised in Hamburg, Germany, moved to New Zealand after high school to work and then moved to Sweden to study. I love languages, reading and anything that has to do with sports. I am pretty competitive and have been rock climbing since forever.
I got my high school diploma in Hamburg then started studying empirical language studies back home in Germany and am now in my second year of the IBM programme at MDU.
I guess my experience education-wise is limited to being in the high school board for development and improvements in the school as well as working part time as a German teacher here in Sweden.
VICE CHAIRPERSON OF EDUCATION
Hello there,
My name is Theodor Hellgren. I go by Theo and I am a first-year IBM student. My role on the board is vice-chairperson of education.
I work with Sophia to aid and assist her in our work to improve our courses and programs. We want to make our studies at MDH as fun and productive as possible.
I'm a huge football fan, and I unashamedly support Arsenal. I have never broken a bone, yet. And I love music and I adore to read books, everything from the old classics to fantasy.
I'm studying my first year on university now!
I've been a swimming instructor for 4 years and I spent 2 years as a coach for a U15 football team.
If there's any questions, don't hesitate to contact us